Our Infant Program
Our infant environment is designed to be warm, predictable and responsive to the varying needs of each infant. We maintain a 1:3, teacher to child ratio. There are opportunities daily for one-on-one interactions with a primary care giver, group interactions with a focus on art and music and alone times to observe their environment. Infant needs and schedules are flexible by nature. Our trained care giving staff promote individual care patterns and work closely with parents to have a continuance of care most like home. Daily records of sleeping, eating and activities are maintained to support this continuance of care.
Our Toddler Program
Our toddler program consists of three individual classrooms, with four children and one teacher, interacting as a group of 12. This style of care allows for one-on-one time with their primary teacher, while also promoting success in a wide range of developmental skills. Our program is flexible for the exploring toddler, yet our teachers provide consistent and comfortable care that fosters their emotional needs. We work with parents to provide a positive and successful toilet-training experience.
Our Preschool Program
This program is designed to offer learning opportunities in a fun, rewarding and positive setting, while also preparing the children for the expectations of kindergarten. The team of two teachers, offer activities that focus on early reading, writing and math skills by building on the physical, language, social and emotional skills that are the foundation of successful early learning. This program is where the CACS Head Start partnership is offered to children age 3 through 5.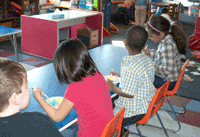 All Programs
Beginnings Child Care participates in the USDA Adult and Child Care Food Program and offers morning snack, lunch and afternoon snack to all children who are eating table foods.
Beginnings Child Care participates with the Department of Human Services for families who are income eligible for child care assistance.
Beginnings Child Care participates with the Office for Young Children and Lansing Community College Women's resource Center scholarships.
Monthly parent meetings are offered to provide parenting information and an opportunity for parents to grow in relationship with others.
Developmental assessments are performed with age groups infant through preschool and Parent/Teacher conferences are provided twice yearly. Parents are invited to participate in their child's care and learning experience.