35 Years of Coats for Kids
INDIANAPOLIS (August 27, 2021) – For 35 years the Coats for Kids program has helped families in need keep their children warm and safe through the long winter months. The annual event officially kicks off on Monday, August 30, 2021 with the start of coat collections at seventeen central Indiana Classic Cleaners locations. Locations can be found at ClassicCleaners.net. Bins will remain out through October 8.
If you are unable to drop off a coat, The Salvation Army's "Online Coat Shop" makes it easy to donate cash to support the program. You can donate online to Coats for Kids this year by
Visiting our Coats for Kids page and clicking the red "Donate to Coats for Kids" button

Texting the word HOOSIER to 24365 to receive the link for the Online Coat Shop

Scanning the QR code on register display cards at each Classic Cleaners location
The Salvation Army is partnering with Classic Cleaners and WTHR to collect, clean, sort, and distribute thousands of new and gently used coats this fall. The need is great in our community, and it is anticipated that around 2,500 children will be served on Coats for Kids distribution day October 16. Because size needs vary from year to year, upwards of 4,000 coats from infant through teen sizes will need to be on hand in order to serve every child.
In addition to a warm winter coat, each child that comes to Coats for Kids will receive a winter hat and gloves. These hats and gloves are provided through the generous support of the Murphy Family, longtime supporters of Coats for Kids and volunteers for The Salvation Army.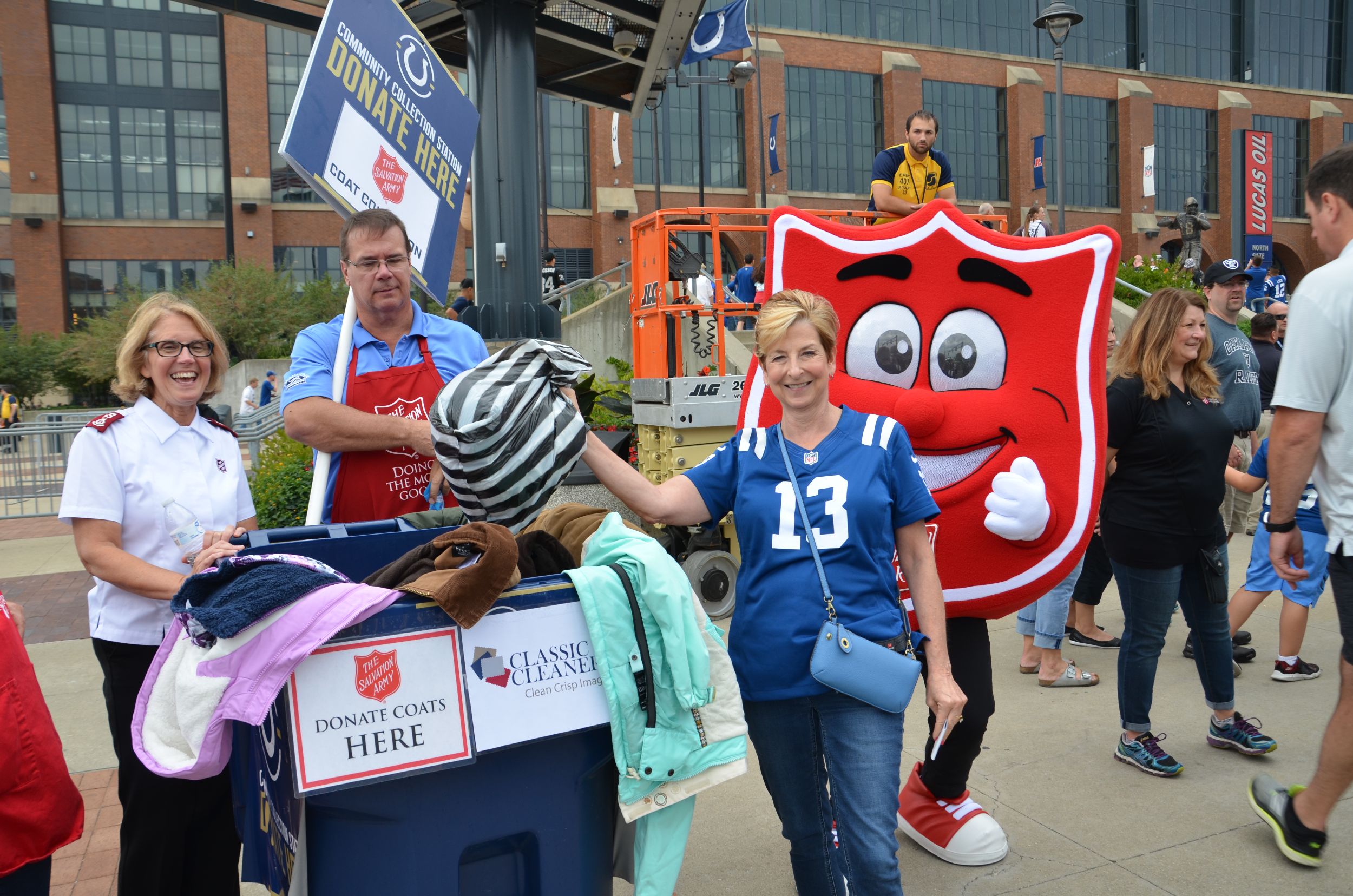 Colts fans will also have an opportunity to donate coats at the Colts regular season opener on Sunday, September 12 against the Seattle Seahawks. More than 40 volunteers will man collection bins on each side of Lucas Oil Stadium from 11 a.m. to 1 p.m.
In addition to coats, the volunteers will also be collecting cash donations, which will be used to buy additional coats in needed sizes. Volunteers are still needed for the Colts Gameday Collection, so head to our volunteer page to get involved.
NOTE: Families interested in signing their kids up to receive coats on October 16 will need to register in advance this year. Due to the ongoing COVID-19 pandemic, The Salvation Army will be using a timed entrance system. On October 16, families will be able to enter the Blue Ribbon Pavilion no earlier than 30 minutes before their ticketed time in order to limit the number of people in the building at once. Online registration for Coats for Kids opens on September 27. A link will be available at that time on SalvationArmyIndiana.org.