Never Miss a Chance to Do the Most Good
Please enter your name, email and zip code below to sign up!
Hungry is No Way to Spend Childhood.
The Salvation Army helps cure hunger daily by providing nutritious meals to anyone in need.
Find Help Now
Every day, we fight hunger through:
Food Pantries
By offering access to free fresh produce and canned goods, we provide valuable meal supplementation while helping those in need maintain their independence and dignity. These programs are especially crucial in "food deserts," where entire communities lack access to a grocery store.
Bed & Bread Club®
Homelessness and hunger are problems many Detroit residents must deal with day in and day out. That's why we are proud to run the Bed & Bread Club. We're dedicated to feeding the hungry residents of Detroit who are unable to make it to a soup kitchen, as well as providing overnight shelter for residents who have no place to sleep.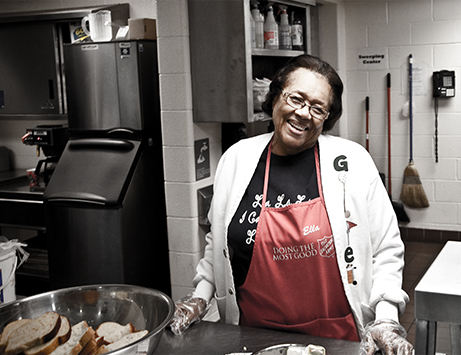 Hunger is curable. You can help.
$120 can feed five people for nearly a full month.
Donate Now
---
Spread the Word
Turn your passion into action. Share these facts with your friends and
followers to educate and inspire change.
---
Wherever there is hunger, you'll find
The Salvation Army, feeding people
and meeting needs.
Every single day people go hungry, and every day our trucks are there to feed them.
---