The Salvation Army Rookie Basketball Association is a developmental youth basketball league for girls and boys, grades k-8, in Duluth, Minnesota. Our focus is a holistic approach training the body, mind (attitude) and heart (effort). Through a fun sports experience foundational individual and team skills are developed to benefit youth in sport and in everyday life.
The league offers seasonal sessions, plus 3-on-3 player opportunities and clinics. For information on current league events view our most recent newsletter: Summer 2021.
COVID-19 2021
Update
Taking into consideration district 709, local and state recommendations and requirements, as well as, parent/coach survey responses, Rookie Basketball Association (RBA) leadership is currently discussing, researching, and planning programming.
All updates will be posted on the RBA website, Facebook Twitter and Instagram, and emailed to all of last year's participants.
For the RBA Covid-19 Preparedness Plan, including answers to commonly asked Covid-19 programming questions, please click HERE.
Thank you for your patience as we navigate this unprecedented time.
Winter Programming
Currently the Duluth elementary schools are not allowing facility permits for outside organizations. This impacts RBA programming as usually practices are held in those facilities. RBA leadership has worked to offer as much programming possible given the limited space available.

The following adaptations have been made for the 2021-2022 winter season:
K-1 graders- CO-ED: Intro to Basketball will be offered in 2 - 4 week sessions in November on Monday nights and again in 2 - 4 week sessions beginning in mid-January. Limited space for volunteer coaches to work with RBA staff will be available. These sessions will be offered at The Salvation Army.
2-5 grade boys & girls divisions: Teams will only meet on Saturdays, November 6-March 12. Each session will consist of 2 teams in the same division. They will each have half of the court for 30 minutes of practice then play a refereed game of at least 2 - 12 minute halves. 2 volunteer coaches will be needed per team. These sessions will be at The Salvation Army and The Encounter.
6-8 grade boys & girls divisions: Teams will practice on Tuesdays or Thursdays with games on Saturdays from November - mid-March.
Thank you for your understanding as we navigate a second year of Covid-19 impacted programming.
---
SCHOLARSHIP APPLICATIONS MUST BE RECEIVED AND APPROVED BEFORE REGISTERING!
Proof of income and/or assistance MUST accompany the scholarship application to be considered. Scholarship families will receive a personalized scholarship code to be used at registration.
Click HERE for the RBA Scholarship Application
---
K-8 Winter Programming Registration
Click HERE
K1 Intro to Basketball has reached capacity, to be added to the wait list click HERE.
Thanks to a Fundplay Grant from LeagueApps RBA registration has changed for the better. Parents will need to make a family profile then will be able to register individual players within that profile. Once families have a profile they will be able to reuse it to register for future programming. We are excited for the opportunities this grant provides, including improved communication, ease of use, and even an app to access your child's schedule!
We offer a winter basketball league for elementary & middle school-level boys and girls in grades K-8. This league runs November through mid-March and focuses on learning the fundamentals of basketball along with character qualities. Registration is OPEN, the deadline for K-5 grade programming is Friday, October 1, 2021.
We offer a 3-on-3 spring basketball league for boys and girls in grades 3-6. This six-week league focuses on improving a youth player's fundamentals. Games are on weeknights, with a tournament the last week. Registration will open in February 2022.
We offer summer basketball clinics for boys and girls in grades K-6. These clinics focus on developing basketball fundamentals, as well as character qualities of integrity, teamwork and excellence. Players will develop their individual and team skills through training drills, participating in individual contests, and playing in games.
Summer clinic registration will open in May 2022.
Scholarships are available for qualifying families (download a scholarship application). PLEASE NOTE: You must complete the application, submit it with proof of income and assistance, AND BE APPROVED before registering your child. Player placement is on a first come, first serve basis. Please sumbit your complete scholarship application early as the approval process can take up to 2 weeks. Families with more than one child participating will receive a discount for each additional child. For any questions, call 218-576-6174.
Practices for league sessions are held at the following locations:
The Salvation Army, 215 S. 27th Ave. W.
Congdon Elementary, 3116 E. Superior St.
Holy Rosary School, 2802 E. 4th St.
Homecroft Elementary, 4784 Howard Gnesen Road
Lakewood Elementary, 5207 N Tischer Road
Lincoln Park Middle School, 3215 W. 3rd St.
Lowell Elementary, 200 Rice Lake Rd.
Laura MacArthur Elementary, 720 N. Central Ave.
Lester Park Elementary, 5300 Glenwood St.
Myers Wilkins Elementary, 1027 N. 8th Ave. E.
Piedmont Elementary, 2827 Chambersburg Ave.
Stowe Elementary, 715 101st Ave. W.
All games are on Saturdays at either The Salvation Army, 215 S. 27th Ave. W., The Encounter, 201 E. 1st St., or Lincoln Park Middle School, 3215 W. 3rd St.
If Duluth Public Schools are closed due to a holiday or inclement weather, practices or games will be canceled.
Coaches send players home with drills and skill work to practice at home. View player skill guide.
The Rookie Basketball program relies on volunteers to coach teams for each winter season. The time commitment varies from one to three hours per week. If you volunteered for this role last year, you will need to register but you do not need to fill out a new application. Registration for volunteer coaches for the 2021-2022 season will open on August 27, 2021. Thank you!
Each volunteer will need to complete the following:
Online volunteer application and registration, including references
Online background check, linked in the volunteer application
Attend Salvation Army Safe From Harm training, good for four years
Online concussion training, state mandated and one time (view training)
Attend coaches meeting and training, date to be determined
View the Coaches Guide 2019-20 and official basketball signal chart. Our Rookie Basketball coaching resources may also be helpful.
2019-2020 Dale Stocke Coach of the Year
Larry Oleksa, pictured with his family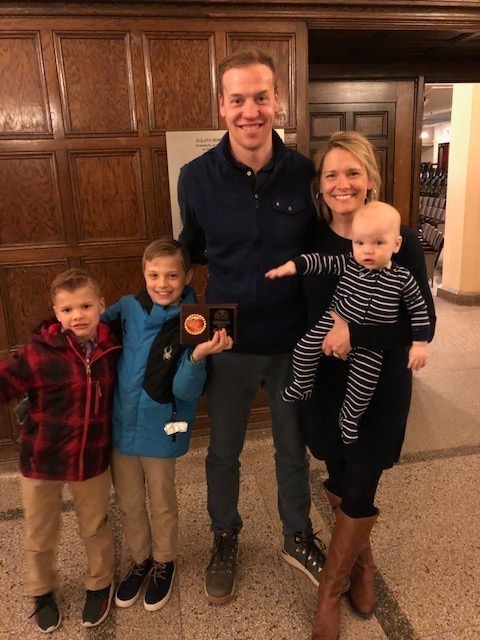 2018-2019 Dale Stocke Co-Coach of the Year
Julie Flotten, left, and Mia Thibodeau, right, with their team.
© Lynnette's Portrait Design 2019
2017-18 Dale Stocke Coach of the Year
Jill Doberstein, recipient, with members of her team.
2016-17 Dale Stocke Coach of the Year
Mayor Emily Larson, Steve Williams recipient, St. Scholastica Head Coach David Staniger
Rookie Basketball lessons take place both on and off the court, with each parent's involvement being key to the development of their child. The Rookie Basketball program has developed a Parent Guide, as well as the RBA Code of Conduct to help ensure the league is a positive learning and growing experience.
Curious what you're missing out on? Miss seeing your Rookie in action? Check out the action in our Photo Gallery and view footage from our games and most recent practices below:
Season Highlights
These are the highlights for the past winter seasons and our 2021 summer clinics. Watch to learn what our league is about and what a typical season is like.
From the Mayor
Duluth Mayor Emily Larson congratulates players on a season well done and talks about her own children's experience in the league.
Parent Testimonial
End of Season Message: Minnesota Viking C.J. Ham
End of Season Message: Anders & Bjorn Broman
A number of basketball standouts partner with the program and practice with the kids, including the Bulldog men's and women's basketball teams from UMD.
We also have a number of local businesses who support the program:
Future Sponsors ($5,000+)
League Sponsors ($1,000+)
Team Sponsors ($300 - $999)
For more information about the Rookie Basketball Association, please contact Kris Mallett at Kristin.mallett@usc.salvationarmy.org or 218-576-6174.