Long-distance friends drive 60 miles to ring bells together
Close friends Carol and Michelle may live halfway across Minnesota from one another, but that's not stopping them from ringing bells together this Christmas season. Sign up to ring.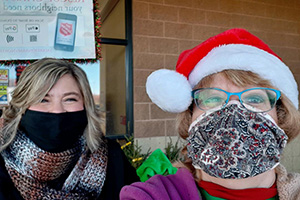 The pair live 120 miles apart – Carol in Rochester, Michelle in Elk River. On Dec. 10, they will each drive about 60 miles to meet halfway in Lakeville to volunteer at a Red Kettle. It's their second time traveling that distance to ring together since 2020.
"We have so much fun ringing together," said Carol (pictured, right, with Michelle, left, in 2020).
Carol first started ringing in Rochester in 2014 after witnessing how much fun her coworkers were having at the kettles.
"They were having a blast, so I ended up ringing and got hooked," said Carol, who works as a clinical research coordinator. "One time while I was ringing with a friend, we were singing Christmas carols and two ladies asked if they could sing with us. It was really cool."
She later recruited Michelle to join her while they were coworkers. After Michelle moved to Elk River several years ago, both women felt sad that they wouldn't be able to volunteer at the kettles anymore.
"I told Michelle I was going to miss ringing bells with her – so let's just keep doing it!" Carol recalled.
Michelle said she enjoys ringing "to provide an opportunity to give to the community through The Salvation Army."
She can't think of a better person to do that with than Carol.
"Carol is a close friend that I enjoy spending time with and meeting new people while ringing bells," Michelle said. "Last time ringing we were surprised with a hot chocolate from a customer that wanted to help keep us warm. He not only warmed my hands, but also my heart."
The pair now make their long-distance bell ringing experience a daylong event, spending time together long after their shift at the kettle is over.
"This year we're going to a Christmas concert afterward," Carol said. "We do good and we have fun."
Michelle and Carol encourage everyone to pick up a bell, find a friend, and volunteer at the kettles.
"Ringing bells brings joy into the world," Carol said. "Everybody should try it."
Sign up to ring bells
Registration is open for the 2022 bell ringing season. Sign up to ring.
The Salvation Army needs more bell ringers than ever this holiday season due to rising inflation. Your time volunteering at a red kettle will help local families who cannot afford the rising costs of food, gas and housing. (Read why Vikings wide receiver K.J. Osborn (pictured) supports The Salvation Army.)
Bell ringing is a fun and easy way to make a big difference, with hundreds of kettle locations throughout the Twin Cities, Greater Minnesota and North Dakota. Recruit your friends, family and coworkers to join you and raise even more money for families in need.
This holiday season, The Salvation Army is calling on all of our supporters to Love Beyond. #LoveBeyond is a national Salvation Army campaign that encourages people to put love above all else, in order to show families in need that love exists beyond their most difficult situations – be it hunger, overdue bills, eviction, addiction, and other hardships. Join us by giving a donation, signing up to volunteer, or ringing bells at a Red Kettle.