Never Miss a Chance to Do the Most Good
Please enter your name, email and zip code below to sign up!
Doing The Most to Fight Hunger
The Salvation Army helps cure hunger daily by providing nutritious meals to anyone in need.
Donate Now
I Need Help
To keep our clients, staff, and volunteers safe, and in accordance with city and state guidelines, most programs and services at The Salvation Army Winnebago County Area Command are closed until further notice. Modified programs and services may still be available. Food pantry is open but items are being pre-packaged. Social services available by appointment at the 416 S. Madison Street location. For the most up-to-date information, please contact us at 815-962-7195 or find a location near you.
Click here to learn more about local and national Coronavirus (COVID-19) relief efforts.
---
59% of people seeking food assistance choose between paying for food and paying rent or mortgage.
Each night in the U.S., 17.4 million families go to bed hungry. An additional 6.9 million families experience very low food security. That means they don't always know where their next meal is coming from.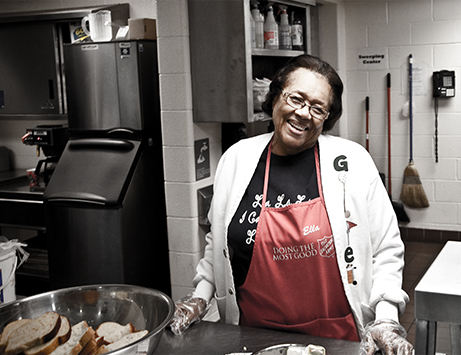 Hunger is curable. You can help.
---
The Salvation Army helps cure hunger in our community through:
Food Pantry
The Salvation Army's food pantry at our Social Service Center serves the Rockford/Winnebago County area. Items provided include shelf-stable pantry foods, breads, cereals, meat, and other household necessities. For more information, visit our Social Services page or call 815.972.1135.
Mobile Feeding & Homeless Outreach
The Salvation Army Friday Night Patrol provides food and hygiene products to those who are homeless or at-risk of becoming homeless in our community. Distributions are every Friday night at the Winnebago County Jail and the Crusader Clinic. To volunteer or drop off donations, please call 815.962.7207.
Homelessness Prevention & Emergency Assistance Programs
The Salvation Army provides emergency assistance to help with utility bills, clothing, medication bills, and other needs in order to keep families in their homes. For more information or support: contact our Social Service Center at 815-972-1135, find a location near you, or learn more online.
Meals at Shelters, Facilities and Other Programs
The Salvation Army provides nutritious meals and snacks for families and individuals in need. We serve dinner during Supper Club at 5 p.m. on Thursday evenings at our Rockford Temple Corps Community Center. Most after-school and camp programs also provide a healthy snack.
How You and Your Family Can Help the Homeless
Homelessness is an issue plaguing cities and neighborhoods across the country. Here are some ideas for how to talk with your children about homelessness, how you can help fight poverty, and what you can do to make an impact in your community.
---
Spread the Word
Turn your passion into action. Share these facts with your friends and
followers to educate and inspire change.
Give now. Change lives forever.
Wherever there is hunger, you'll find The Salvation Army,
feeding people and meeting needs of struggling neighbors.
Watch how The Salvation Army works to feed the body and the soul.
---